About Winsense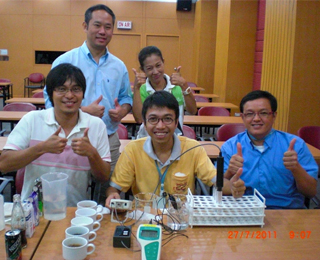 Winsense Co., LTD. is a newly established company, founded on the 14th of February 2012. Winsense is a startup company funded by techno-preneurs who have the vision to create a solid upstream technology company in Thailand. Its mission is to invest in and develop research prototypes from Thai research agency or universities in order to finally market and put them in mass production.

The prototype that drew the investors together was the automatic water monitoring system. The system, at that time, included the ISFET sensors for pH level measurement along the river side and aquatic farms. The system allowed the user to view the pH history together with location via the internet. So the data can be retrieved on demand anywhere in the world with internet connection. This idea is very interesting to us because this could be very useful to the farming industry as well as the other agricultures.

The prototype was one of the five prototypes displayed in the annual NSTDA (National Science and Technology Development Agency) investors' day. This event brought out 5 best inventions from a large number of selected field prototypes from NSTDA knowledge bank selected by experts from private sectors and awarded by NSTDA for product design development.

What was more interesting was the ISFET sensor. ISFET sensor stands for Ion Sensitive Field Effect Transistor. This sensor is very intrigue because the sensor can be developed into different chemical or biological detectors with additional film on top of the sensor. So this is a kind of sensor platforms and we see this as a good start for the company since we have access to the wafer fab facilities which allows us to design the sensor architecture, build, and test them in order to optimize the sensor before launching into the worldwide market.

Apart from ISFETs, we also have other kinds of sensors in our production line, highly linear temperature sensor, pressure sensors, humidity/moisture sensors in our pilot line etc.

Our vision will not stop only at ISFET but further develop other sensors and prototypes to commercialize potential prototypes in our stock.